Helen Cooper has a charmed life. She's beautiful, accomplished, organised - the star parent at the school. Until she disappears.
But Helen wasn't abducted or murdered. She's chosen to walk away, abandoning her family, husband Sam, and her home.
Where has Helen gone, and why? What has driven her from her seemingly perfect life? What is she looking for? Sam is tormented by these questions, and gradually begins to lose his grip on work and his family life.
He sees Helen everywhere in the faces of strangers. He's losing control.
But then one day, it really is Helen's face he sees...
Everyone knows a Helen - she's the one who's always at the centre of everything. The school mum who's turned it into a career. Always perfectly organised, always smiling, always in control, with the most well turned out children, the most immaculately beautiful house, the best cakes and costumes for school events.
Helen has to be the best at everything, so when she disappears - just walks out of her home one day without warning - she does it completely and untraceably. Helen's the best at disappearing, too.
But what happens to the people she's left behind?
As the title implies, that's really what this story is about - husband Sam, children Miranda and Marguerite and fellow school mum Lara are all affected in different ways by the disappearance of Helen. Clearly, her immediate family are the most devastated - and the plight of the children who have experienced so much loss is heartbreaking - but the ripples from what Helen has done spread further. We hear the story from the points of view of Sam, Lara and also snippets from nine year old Miranda. I was wondering quite a lot if we were going to hear from Helen to shed some light on where she'd gone and, most importantly, why. So do we? - well, I'll let you find that out for yourself!
This was a wonderful read - it always feels like a slight risk volunteering to review an unfamiliar author, as you're never sure what you're going to get, but What She Left is very well written, engaging and often surprising. I was engrossed throughout and really did not know how it was going to end. The main characters, including the children, are fully realised and non-stereotyped. Lara in particular I found a very engaging character. Maybe more minor characters such as Lara's mum could have been more fleshed out - but I'm only saying that because I really liked Lara's mum!
All in all a very interesting and thought provoking exploration of an unusual situation: a woman who disappears not due to abduction, not fleeing terrible abuse, but by choice. (The scenario of a man walking out on a family, never to be seen again, is a slightly more familiar one, if no less devastating for those left behind.) While there is certainly a significant element of mystery here surrounding Helen's past and her reasons for disappearing, the main focus is firmly on the consequences of that disappearance, and it makes for a fascinating read.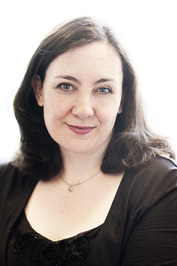 Rosie Fiore was born and grew up in Johannesburg, South Africa. She studied drama at the University of the Witwatersrand and has worked as a writer for theatre, television, magazines, advertising, comedy and the corporate market.

Her first two novels, This Year's Black and Lame Angel were published by Struik in South Africa. This Year's Black was longlisted for the South African Sunday Times Literary Award and has subsequently been re-released as an e-book. Babies in Waiting, Wonder Women and Holly at Christmas were published by Quercus. She is the author of After Isabella, also published by Allen & Unwin.
Rosie's next book, The After Wife (written as Cass Hunter), will be published by Trapeze in 2018, and in translation in seven countries around the world.
Rosie lives in London with her husband and two sons.