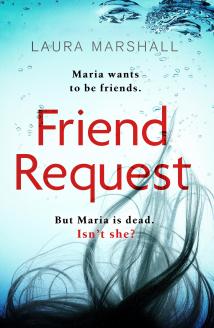 "I am a decent person now. I pay my taxes and go to the dentist. I recycle. I care about my friends, and about the world in general. But how do I reconcile that with the things I did when I was sixteen? I'm that person too, aren't I?"
In the debut novel from Laura Marshall, Louise is shocked to receive a Facebook friend request from her old schoolmate Maria - because Maria has been missing, presumed dead, for over twenty-five years.
In the age of social media it feels inevitable that someone would, at some point, write a novel with this title and basic premise. It could've gone either way - good or bad - but I'm happy to report that Laura Marshall's story is most definitely the former. Actually, it's really great.
Louise has got on with her life for over twenty-five years since Maria died - she's been married and divorced, built her own business, has an adored four-year-old son, Henry. But for all of that time she's been haunted by what happened to Maria and by her own role in that. Now it looks like Maria, or someone posing as her, is back. But why, and why now?
The narrative follows both the present day and 1989, when the younger Louise fervently tried to win the favour of the popular Sophie (clearly, to adult eyes, a highly skilled manipulator of her friends). As another '80s schoolgirl, albeit a few years earlier, I was able to relate to the era. I should think "Sophies" exist in every time period, though, eternally bolstering their own egos and papering over their own insecurities at others' expense. How far will Louise go to keep in with the in crowd?
The teenage friendship dynamics are skilfully drawn and make the reader question whether they would, in similar circumstances, act in the way Louise did despite knowing it was wrong. I'd like to think I wouldn't. But then again I was basically a complete idiot when I was sixteen, so who knows?
The plotting is tight and in true psychological thriller tradition, as the tension mounts, Laura Marshall manages to cast suspicion on pretty much everybody yet still keep the outcome a complete surprise. There's plenty of momentum throughout but this builds as we approach the final reckoning and near the end - as the truth was coming out - my emotions were really put through the wringer, even to the point of tears at certain revelations.
The characters, including the less pleasant ones, were all believable - sometimes disturbingly so - and some were even likeable. I was able to relate to the protagonist, Louise, in various ways. But ultimately, it's the innocents in this book who will stay with me.
Highly recommended.
Next up: The Other Woman by Laura Wilson.